Presentation of the Brazil Data Cube project at GEO VIRTUAL SYMPOSIUM 2020
The researchers of OBT/INPE, Karine Ferreira and Gilberto Queiroz, presented in June 16th, 2020, the results of the Brazil Data Cube project at GEO VIRTUAL SYMPOSIUM 2020, in the session: Leveraging Advanced Technologies – Focusing on Data Cubes. The presentation is available on the GEO – Group on Earth Observations channel on Youtube.
The researchers presented the project and participated in technical discussions with leaders of similar initiatives and projects in other countries to build Earth observation data cubes.
The session was mediated by Marie-Francoise Voidrot, Europe Director, Innovation Program – Open Geospatial Consortium, OGC and Prof. Thierry Ranchin, Director of the Observation, Impacts, Energy Center in MINES – ParisTech – PSL University.
Besides the Brazil Data Cube project, other initiatives as the "Swiss Data Cube", "Data Cubes for Australia and Africa" and "Euro Data Cube" were presented by the researchers Gregory Giuliani (Head/Project Leader – Digital Earth Unit/Swiss Data Cube), Brian Killough (Head, CEOS Systems Engineering Office – NASA Langley Research Center), Fang Yuan (Assistant Director – Digital Earth Australia) and Grega Milcinski (CEO – Sinergise).
Earth Observation General-Coordination (OBT) and National Institute for Space Research (INPE) are leading a pioneering project in the Remote Sensing and Geoinformatics research areas, in line with other international institutions.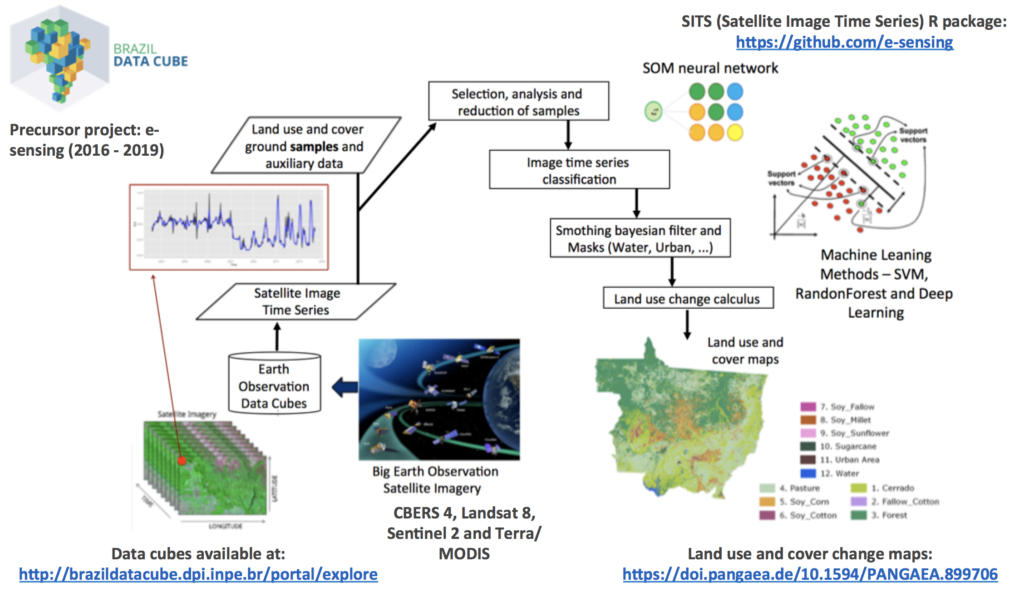 Source: Brazil Data Cube